Fleet Line Markers have been busy out on the road over the past couple of months starting at Manchester City's training ground where we were sponsoring the Premier League Groundsmen's Annual Meeting. After the obligatory coffee and biscuits, the groundsmen were able to see the Beamrider in action out on one of City's nine glorious training pitches. Most had seen the Beamrider marking the accurate ninety degree corners but there still appeared to be continued enthusiasm for this machine. The remainder of the day was taken up by the meeting and in the evening, most retired to the hotel where we were further engaged in conversations about line marking, renovation of pitches and the general day to day life of a groundsman.
The Hampshire FA invited us to Basingstoke to put on a demonstration evening for some of
their interested members. The roadshow was advertised as an educational evening with the
IOG also in attendance.
Fleet had the opportunity to showcase the Ki, Kombi and Beamrider and relevant paints with
the event culminating in a 'straightest line' competition which was won by Gary Brown of South
Wonston Swifts who won a Ki and paint worth £400. The HFA members were very
complimentary about the event, commenting that it had been 'informative and well presented'.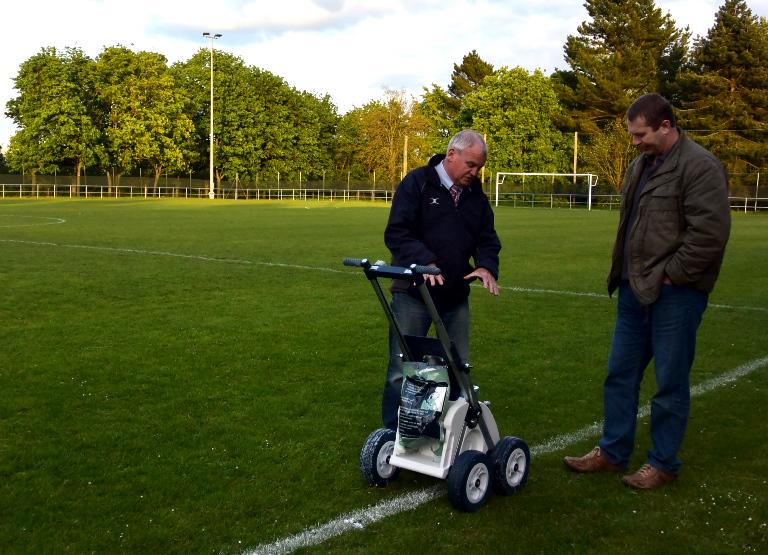 Everris hosted an exhibition day at Musselburgh Racecourse in mid-May which saw numerous
big names such as
Stihl, Everris, Fleet, etc promoting their products. This event was primarily
for Council officials but was also well
supported by grounds staff of local sporting clubs as well
as general contractors. We were given permission to put
down the Fleet stencil using Magipaint
which drew much attention within the Parade Ring.